September MacVideo Updates
September 5 2023
New Features:
Analytics Dashboard:
Users now have a detailed analytics dashboard that provides an overview of all your videos. The dashboard can show your users engagement with specific videos, where they watched it from and with what devices. You can view user engagement in different time periods and compare between them. You can filter your analytics based on a variety of parameters, including location and category.
Web Recorder:
The Web Recorder enables recording content directly from a browser without the need to install or use Kaltura Capture. The Web Recorder can use your webcam, screen and microphone or any other audio input to record video.
YouTube Integration:
Users who wish to use public Youtube videos as resources for their teaching and learning can now use public Youtube links as MacVideo videos. Using Youtube videos this way will allow you to see specific analytics for the video used within your course or resource. You also have the ability to make it a video quiz.
Recycle Bin:
Deleted videos will now be held in a recycling bin for 30 days. After the 30 days the videos will be permanently deleted.
Updates:
Avenue Integration Upgrade to LTI 1.3
We've updated the Avenue to Learn integration to LTI 1.3. With this comes with increased security and capabilities for future development.
What this means:
Your current embeds using the integration will continue working and the process remains the same. New embeds onwards will be using the 1.3 update.
Spring term 2024 we will retire 1.0. Course content using the MacVideo integration from before September 5 2023 will need to be updated.
To update, simply re-embed all content from before September 2023 using the integration. If you just used an embed code directly from the MacVideo website, you will not need to do this.
V7 Player user interface changes:
You may have noticed some changes to the newest player. We've changed some of the UI to be more simplified. Caption, Quality and Speed settings have all been consolidated under the gear icon.
Caption Alignment:
If you already have a script prepared for your videos, you can simply upload the script to become the captions for your video with the Caption Alignment feature. This way you don't need to correct the automated captions.
New MacVideo Player
March 30 2023
MacVideo now has a new upgraded video player with a new look and features.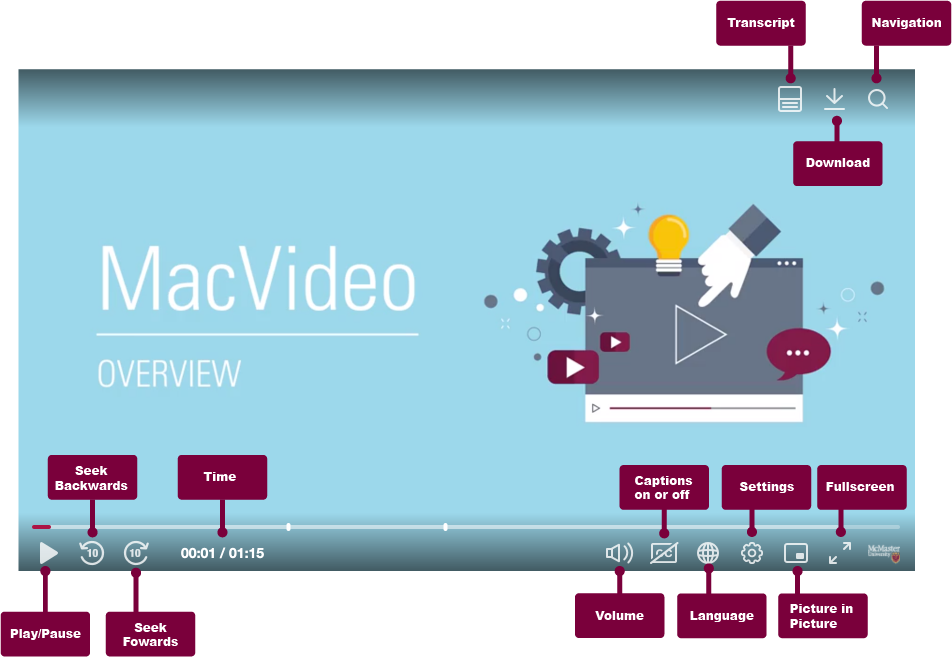 The new player includes a built-in transcript window with tracking and search as well as the ability to download the transcript file directly from the player. There's also a new interface for navigation in video search including chapters and slides.
This update applies to all new videos moving forward including video quizzes, 360 videos and playlists. All videos on the MacVideo website itself will be viewable with the new player.
Videos previously embedded into other platforms such as Avenue to Learn, websites and modules will still have the original player to ensure full compatability. To update currently embedded videos all you need to do is grab a new embed code from the MacVideo website and re-embed it. View this article on how to get an embed code. If you used the Avenue to Learn integration to embed your videos, you will need to re-embed them using the integration as before. To review how to use the Avenue to Learn integration, view this article.
To view more details about the player read the overview article here.
A Few Updates
February 2 2023
Multi-factor Authentication will be coming to MacVideo soon. There is no need for any action on your end. Logging into the MacVideo website (www.macvideo.ca) will require MFA much like your McMaster email or other Microsoft 365 apps. For more information visit: https://macvideo.mcmaster.ca/knowledge-base/exec/multi-factor-authentication-mfa/
You can now create your own captions from scratch if you prefer not to use the automated captions. To see more view the tutorial here: https://macvideo.mcmaster.ca/knowledge-base/exec/how-to-create-captions-from-scratch/
You can now resize the video player while in the caption editor. To see more visit the tutorial here: https://macvideo.mcmaster.ca/knowledge-base/exec/how-to-edit-captions/
New Caption File Support
February 19 2021
MacVideo now supports WebVTT caption files. These caption files can also be edited within the MacVideo Caption Editor. With this new addition, the following caption file types that are supported and may be edited are: SRT, DFXP, and WebVTT. To see how to edit captions within the MacVideo Caption Editor view this tutorial.
New Language Options for Captions
November 16 2020
You can now request additional captions in: French, German, Italian, Japanese, Korean, Polish, Russian, Spanish, Mandarin and Cantonese. You can have more than one caption file available to viewers. To see how to request captions view the tutorial here.
New Interactive Video Paths
October 21 2020
MacVideo now has a feature that provides the capability of creating videos with branching pathways. Kaltura Interactive Video Paths will give you the ability to add choice-based learning paths to your videos, inviting your viewers to engage and participate in unique ways. With Interactive Paths, you can customize your content to create a "choose your own adventure" experience for each of your viewers. You can create, share and embed video paths in your website and Avenue to Learn.
To access the Interactive Video Paths tool, simply log into MacVideo and click "Interactive Video" under the Add New menu.
To view an example video and the tutorial, go to this link.
For even more branching examples made outside of McMaster, go here.
New MacVideo Platform Updates
July 19 2020
With the ever growing volume of videos, Kaltura are continuously looking at ways to help you better organize your repositories for maximum discoverability and greater ease of use. With that in mind, we've added a new display option to your personal media repository, My Media. Users can now view their media and all related information in a single Table view, including: Title, Entry ID, Type of Entry, Tags, Channels, and get quick access to Entry-Level Analytics. To see more go here.
Kaltura has recently added AI-Based machine translation for captions (Macvideo currently exploring this). To read more about MacVideo captions, go here. Kaltura in collaboration with SyncWords are hosting a webinar on AI-Based machine translation July 29, 2020 11:00 AM. If you'd like to attend this webinar, you can register for the event here.
New Video Customization Features
June 9 2020
MacVideo now allows you to customize your video page design as well as choose different customized video players. We've added the option to use a player that has a direct download button for your viewers as well as a side by side default view if you utilize picture in picture videos. See the different players here. See how to customize your video page here. See how to customize your video player within Avenue to Learn here.
Automated Captions Update
March 30 2020
We have now updated the way you can request machine automated captions! This provides a helpful visual user interface to make sure you can keep track of your requested captions and their status. To see how to request machine captions view the tutorial here.