Sometimes your internet browser settings are set to block certain things by default (might look something like the image below or the page may just appear blank). In order to view MacVideo videos within Avenue to Learn, you must make sure your browser settings allow for 3rd party cookies including cross-site tracking.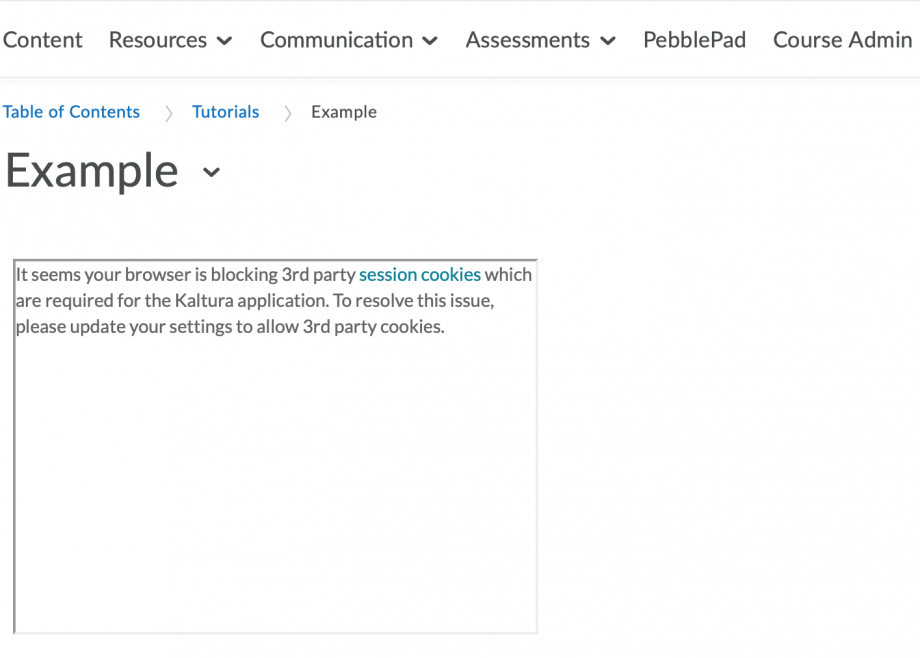 You may see a different sort of message here depending on the version of your browser. It may also appear blank.
If you see a message that says "Unavailable Quicklink" go to this article.
For Chrome:
On your computer, open Chrome.
At the top right, click More Settings.
At the bottom, click Advanced.
Under "Privacy and security," click Site settings.
Click Cookies.
From here, you can:

Make sure Block-third party cookies is turned off.
For Safari:
In the Safari app on your Mac, choose Safari > Preferences, click Privacy, then do any of the following:
Make sure "Prevent cross-site tracking" is unchecked.
Make sure "Block all cookies" is unchecked.
*Apple has recently decided to block all cross-site tracking on the most recent iOS versions of Safari. If you are using Safari on mobile devices and the following steps above do not help, please try using a different browser like Chrome.
For Firefox:
Under the menu select Options (Windows) or Preferences (Mac OSX)

Select the Privacy panel
Set Firefox will: to Use custom settings for history
Check Accept cookies from sites
Set Accept third-party cookies to Always
Set Keep until to they expire
Click on OK
For Brave:
You will need to configure your shield settings for Avenue to Learn
Visit Avenue to Learn in Brave
Click the Lion icon on the right side of the address bar to reveal the Shields drop-down panel
Click on advanced view to see more options within the drop-down panel
Turn off cross-site trackers block (click the toggle button to turn on and off)
In the setting window below Scripts, change Cross-site Cookies Blocked to All cookies allowed
Instructions on configuring your shields from Brave
For each instance, you can customize your settings to allow cookies for only the Avenue to Learn and MacVideo website if you are concerned about maintaining your privacy settings for other sites.